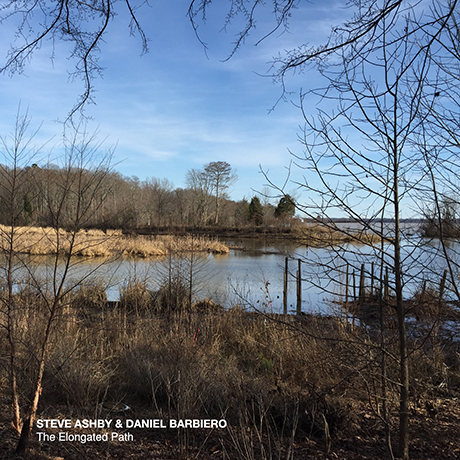 The Elongated Path
STEVE ASHBY & DANIEL BARBIERO
IHab137
The five pieces making up The Elongated Path, bear the sometimes overt and sometimes covert influences of the three seasons of winter, spring and summer. The pieces were constructed of composed and improvised double bass performances from January and June, 2017, to which were added electric guitar and electronics as well as field recordings taken at the Rice River Center in March, 2016 and July, 2017.

Steve Ashby: field recordings, guitar, electronics, ambience.
Daniel Barbiero: double bass.
Field recordings taken March 2016 and July 2017 at Rice River Center, along the James River in Virginia, USA. Double bass tracks recorded January and June 2017 in Silver Spring MD. Assembled in Richmond, VA.
Photograph of Rice River Center by Steve Ashby.

Biographies:
Daniel Barbiero (1958, New Haven CT) is a double bassist, sound artist and composer in the Washington DC area. He has released work under his own name and with such artists as electronic composer/bassist Cristiano Bocci; percussionist/electronics artist Massimo Discepoli, If, Bwana (Al Margolis); Ictus Records percussionist Andrea Centazzo; Blue Note recording artist Greg Osby; and electronic composer/sound artist Steve Hilmy. His compositions have been performed by The Subtle Body Transmission Orchestra, the Greek ensemble 6daEXIt, the Lower Mid-Atlantic Improvisers' Orchestra, and others. In addition to purely musical projects he has collaborated with filmmaker Chris H. Lynn on experimental film soundtracks both recorded and live and was Music Director for the Nancy Havlik Dance Performance Group. His writings on music and other arts appear in Avant Music News, Arteidolia, Percorsi Musicali, Perfect Sound Forever, and other online publications, and he served as an editor of the online arts journal Bourgeon.
Website: http://danielbarbiero.wordpress.com

Steve Ashby is a Richmond, VA based musician, composer, and sound artist who received his Master's degree in music from Virginia Commonwealth University in 2005. Building on his background as a classical guitarist, Ashby creates textures around sounds found in the natural and digital worlds, discovering the places where they intersect, and amplifying their common attributes. Ashby's work is a combination of field recordings, manipulated sound, and composed elements. With a growing interest in sound ecology, Ashby looks for rhythms, melodies, and textures found in his surroundings to inform the direction of his work. Over the past several years, he has turned his creative output towards composing in the ambient/drone/sound art vein. His releases to date include Winter Birds (2016), and Crackles and Codes (2015), among other singles and experiments. In addition, he is on the music faculty at VCU.
Website: https://ashbysounds.org/
| | | | | |
| --- | --- | --- | --- | --- |
| 01. | an elongated path | (04:20) | 47,9Mb | DOWNLOAD |
| | | | | |
| --- | --- | --- | --- | --- |
| 02. | up a shallow incline | (06:40) | 72,7Mb | DOWNLOAD |
| | | | | |
| --- | --- | --- | --- | --- |
| 03. | fractured symmetry | (10:08) | 108Mb | DOWNLOAD |
| | | | | |
| --- | --- | --- | --- | --- |
| 04. | air over wood | (06:34) | 73,5Mb | DOWNLOAD |
| | | | | |
| --- | --- | --- | --- | --- |
| 05. | violet on indigo grey | (09:07) | 98,3Mb | DOWNLOAD |
| | | | | |
| --- | --- | --- | --- | --- |
| 00. | Complete package (Artwork + Mp3 Sound files) | (ZIP) | 77,1Mb | DOWNLOAD |
| | | | | |
| --- | --- | --- | --- | --- |
| 00. | Complete package (Artwork + FLAC Sound files) | (ZIP) | 404Mb | DOWNLOAD |
COPYLEFT:

artwork/cover design:
©2018 Steve Ashby
©2018 Impulsive Habitat
music:
©2016, 2017 Steve Ashby
©2017 Daniel Barbiero
©2018 Steve Ashby & Daniel Barbiero/Impulsive Habitat

This work is licensed under a BY-NC-SA 3.0
Creative Commons License.

---
HOW TO DOWNLOAD MUSIC TRACKS:
- right click the individual links to the files;
- choose 'save as' and point it to the place of your preference (eg: your 'desktop');
- single click usually works, too.
---
HOW TO PLAY MUSIC TRACKS:
- choose an appropriate mp3/flac player (we recommend Winamp) and install it on your system;
- usually, you double click the music files to play them, but you might want to follow the program's specific instructions.